Sheet Metal
Powder Coating
Service

.
Simply upload your DXF files to receive pricing for our instant quote sheet metal powder coating service. Powder Coat your designs with a variety of colors and finishes.
or drag and drop
.DXF up to 10MB
Your file are safe, secure and retain all intellectual rights.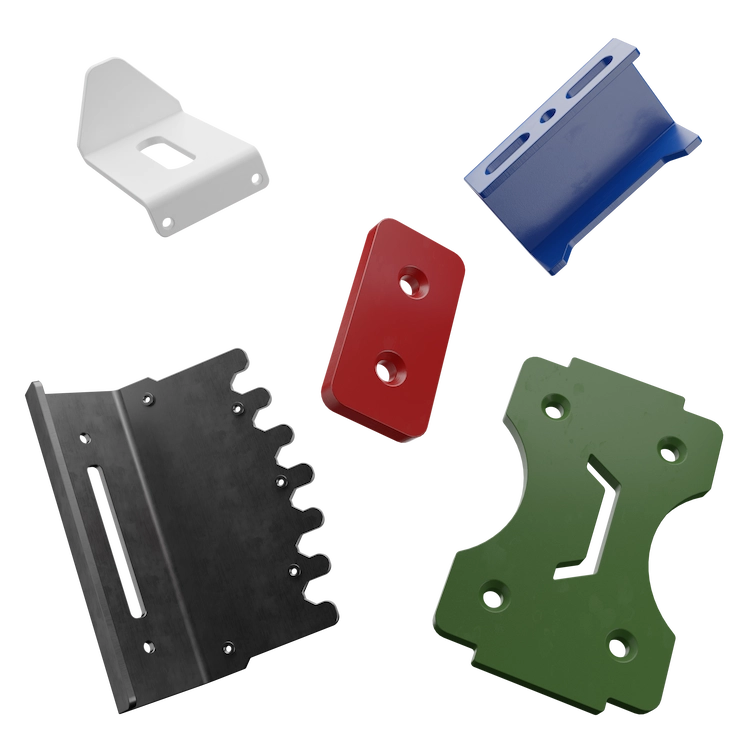 Industry Standard Materials
.
We utilize top-grade materials such as aluminum, steel, and stainless steel in a wide range of alloys and thicknesses to deliver precision powder coating services. Materials are handled with the upmost care and expertise, resulting in finished laser cut and powder coated parts that meet the highest standards.
Additional Sheet Metal Services
.
With our powder coating service, you can add additional services such as laser cutting, hardware insertion, tapping, countersinking, and sheet metal bending. It's everything you need to take your idea from concept to reality, all in one place.
Rapid Sheet Metal Powder Coating Service
.
We provide professional Sheet Metal Powder Coating Services that delivers accurate and consistent part Finishes. Using expert techniques, we coat aluminum, steel, and stainless steel to meet your specific color requirements. Whether you need simple or complex geometries powder coated, our skilled team ensures each piece meets your design expectations. Fabworks' sheet metal powder coating service combines quality and consistency, making us your go-to partner for all your powder coating needs.
High Quality Powder Coating
At Fabworks, we specialize in metal powder coating. Our metal powder coating service can handle a variety of materials, including aluminum, steel, and stainless steel. With a focus on accuracy and consistency, our metal powder coating service ensure that even the most complex designs are executed with meticulous detail, every time. Whether you're in need of intricate components or robust parts, our expertise in handling these materials ensures top-tier results on orders of 1 or 100,000+ parts.
Instant Pricing and Lead Times
Fabworks is committed to simplifying the metal powder coating process for our customers. Our instant quoting engine offers immediate pricing and lead times for all your powder coating cutting needs. With just a few clicks, you can upload your DXF. and receive an accurate quote tailored to your specific materials, and powder coating colors. We know time is money, and our user-friendly platform allows for a seamless experience from start to finish. With Fabworks, you get instant transparency and efficiency, ensuring your project stays on budget and on schedule.
No Order Minimums
At Fabworks, we believe in accommodating projects of all sizes. Whether you need just 1 part or a production run of 100,000, we're here to serve your metal powder coating requirements. No order is too small or too large for our skilled team. Our flexible approach paired with our instant quoting engine means you can order exactly what you need without any unnecessary restrictions. With no minimum order constraints, Fabworks ensures that you receive high-quality powder coated parts tailored to your specific needs, quantity, and budget. At Fabworks, every order counts.
Instant Metal Laser Cutting Quote
.
Stop waiting for quotes and go from CAD to cutting in minutes. Our online powder coating service is the fastest in the industry. Get live lead time estimates so you know when your parts will arrive.
Upload your .DXF file
Upload a .DXF file from any major cad platform to get started with an instant quote. Contact our team if you need help exporting your file.
Configure your parts
Quickly configure your parts with a few clicks and get an instant price and industry leading lead time. Add other services like bending, powder coating, and hardware to your order.
Checkout and pay
Our safe and secure checkout, powered by Stripe, offers the fastest and safest way to order sheet metal online. Google Pay, Bank ACH, and Link are all supported. Save your payment method for even faster checkout.
Fast Track

Your Project

.

Seamless process, unparalleled precision, unbeatable speed. Turn your design into reality by beginning your journey with us today.

or drag and drop

.DXF up to 10MB

Your file are safe, secure and retain all intellectual rights.